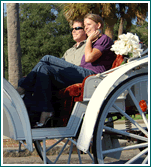 Weddings |

Romantic Outings

| Funerals | Hay Rides


Charleston Coach provides horse carriage rides for a perfect evening on the town. Let us be your chauffeur service for any occasion. Our horse and carriage service can deliver you to or from your hotel, restaurant, or Charleston attraction. Charleston Coach puts the finishing touch on a romantic anniversary, Charleston vacation, or just a night out on the town.

Charleston's historic nature lends itself to romantic rides in horse drawn carriages. Couples staying at a hotel or bed and breakfast can hire Charleston Coach to take them on a leisurely stroll to the farmer's market, performance, or a restaurant downtown. Beautiful homes and historic landmarks can be viewed just like in the days of past. Contact Charleston Coach to book a special part of your Charleston vacation.

Our romantic outings service could be a magical part of an anniversary or an engagement. Surprise your loved one with a special horse and carriage ride to begin or end your evening. Charleston Coach allows beverages on board, a glass of bubbly could be a perfect finishing touch. Whether you are a local to the Lowcountry or visiting a horse drawn carriage will be an experience to remember.

The timeless charm of horse and carriage service added to any romantic evening can create a memorable experience. Contact Charleston Coach and allow us to customize a package especially for you and your day.